Clothes Line Racing 2010
2010 Clothes line racing in review, enjoy some of the photos in this flickr slideshow. Photo by tirsek.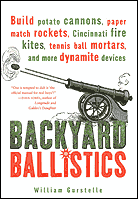 TC Maker would also like to extend a big thanks to the wonderful people over at Make: Magazine who donated many gifts for the occasion, and to Bill Gurstelle who sent us an autographed book. Thanks Bill and Make!